General
manager
Team
leader


Are you seeing a page called OnlineGuardian instead of your forum?


Enlarge this imageReduce this image

Click to see fullsize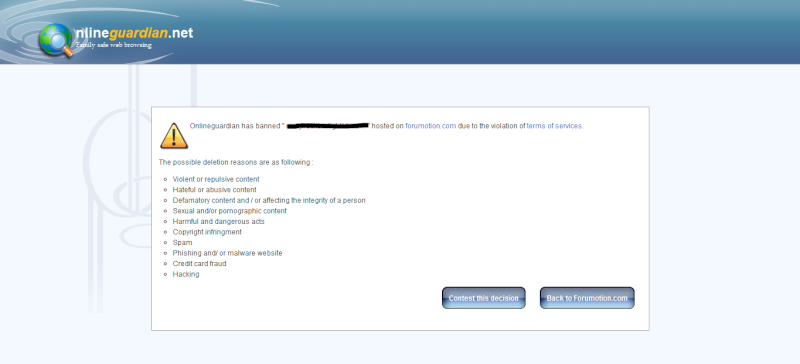 Well, you should know that OnlineGuardian helps Forumotion to prevent forums from breaking their Terms of Service.

When you were creating your forum you have agreed to the (ToS) Terms of Service. You can view the Terms of Service Here.

The list of reasons are the top reasons why your forum might be banned.


Violent or repulsive content

Hateful or abusive content

Defamatory content and / or affecting the integrity of a person

Sexual and/or pornographic content

Harmful and dangerous acts

Copyright infringment

Spam

Phishing and/ or malware website

Credit card fraud



These are just some common examples of what your forum might be banned for.

If you think those reasons are not on your forum please follow these steps:



Please note that once OnlineGuardian bans your forum, Forumotion will not be able to get it back nor have any control of what OnlineGuardian does.

If you have any questions please open a topic in the support section.